Welcome to Nutrition Services!
ABC Unified School District
Nutrition Services Mission Statement
To assist children in attaining optimal physical and mental development and provide high quality nutrition programs as an integral part of the total educational experience for children. An effective child nutrition program combines the delivery of nutritious meals with nutrition education. The department will provide leadership and direction in providing nutrition program. This is based on the district priorities of high results oriented instructional programs that promotes parent, student and community partnerships and improved nutrition staff performance committed to staff development and child accomplishments.
Good nutrition and learning go hand in hand.
The Nutrition Services department is made up of a team of food and nutrition professionals that are dedicated to students' health, well being and their ability to learn. We support learning by promoting healthy habits for lifelong nutrition and fitness practices.
Meals, foods and beverages sold or served at schools meet state and federal requirements which are based on the
USDA
Dietary Guidelines. We provide students with access to a variety of affordable and appealing foods that meet the health and nutrition needs of students.
NEW Carb Count Changes to Pizza Days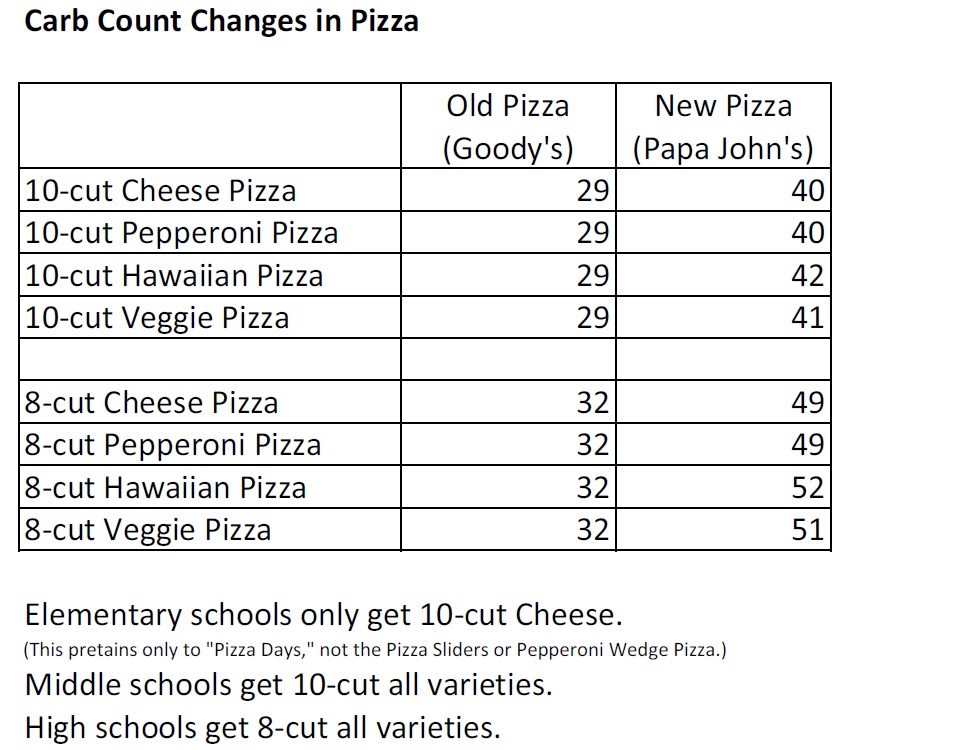 NEW Meal Prices 2016-2017 (effective July 1, 2016)
Lunch

Elementary School Lunch - $2.50

Middle School Lunch - $2.75

High School Lunch - $3.00

Reduced Lunch - $.40

Milk only - $ .50

Breakfast

Elementary School Breakfast - $1.25

Middle & High School Breakfast - $1.50

Reduced Breakfast - $.30

Milk only - $ .50




Myschoolbucks.com allows you to make safe & secure online payments to your student's account 24 hours a day at your convenience.
For information regarding Special Meal Accommodations, click the link below.